Wayne Pate – Good Shape Design prints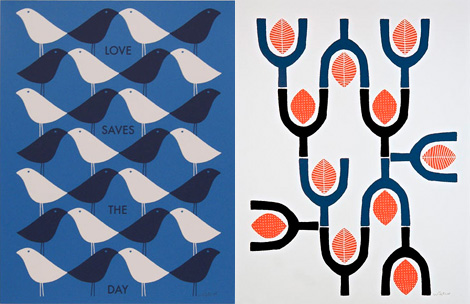 We're really fond of Wayne Pate's work over here, and were very excited when he sent over a bundle of prints, including the above "Love Saves the Day" piece. In all of his work Wayne really nails it with simple patterns, bold shapes, and perfect colors.
He combines a nice mix of flat organic shapes with textured images and illustrations really well. On his site there's a nice range between collage work and more simple graphic work. A lot of the elements feels like they could be found in nature, or translated from found objects.
Thanks again Wayne for sending these are way. Keep an eye on the prints section of his site, as Wayne will be releasing some new prints.

Share on Facebook
Tagsbirds, contemporary, Designers, graphic-design, Illustration, modern, posters, silkscreen
07.15.08 in Product Reviews by Ethan
Share on Facebook