TypeCon 2008 poster gallery – Call for entries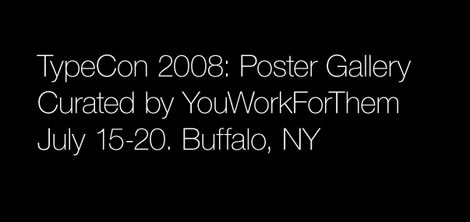 If you don't know what TypeCon is, it's the leading conference in America on Typography. YouWorkForThem is curating a poster exhibit at TypeCon. They are looking for your best poster work that has excellent usage of Type on it. It can be the main focus, or minor. They will be displaying the best submissions and the poster show will most likely travel, like the last one did. Don't wait till last minute, send your entries over now! Please help spread the word, they want as many submissions as possible.
Click here for more info and to download the submission PDF.

Share on Facebook
05.21.08 in Uncategorized by Dave
Share on Facebook