Field Notes memo book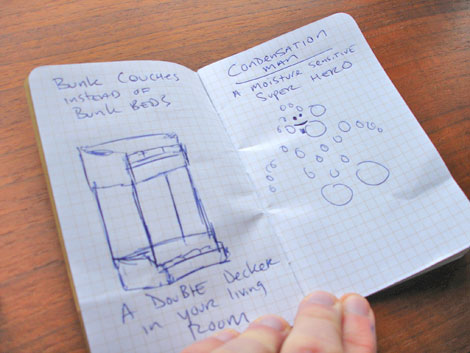 You ever have one of those moments when your postal carrier hands you a package and you can see a tear fall from his eye? He might be crying because of the joy he receives from delivering little packages but most likely its because he opened your package around the corner and is emotionally struggling to give it to you. Well I haven't had this experience yet, but the delivery of my Field Notes memo books might of been a good place to start.
Thanks to the man behind Draplin design for sending me a fresh package of goodies, including a pack of Field Notes. Field notes memo books are the product of Draplin Design and Coudal Partners latest collaboration and were inspired by "agricultural memo books, ornate pocket ledgers and the simple, unassuming beauty of a well-crafted grocery list". Each book contains 48 pages pages of lovely gridded paper and a list of practical applications including "escape routes" and "shoddy sketches".
My previous economy class memo book is a pitiful sight (seen above) so, I was excited to upgrade to the stylish business class Field Notes. I've started to fill the book with random notes and silly thoughts. What I like most about Field Notes is the fact that it easily fits into my back pocket. Its pretty durable as well, so if you sit on it, it's not going to fall apart.
If your still looking for stocking stuffers for Christmas, this makes for a great gift.
Now available at Field Notes Brand

Share on Facebook
12.18.07 in Product Reviews by Dave
Share on Facebook