Win a Raymond Savignac Poster !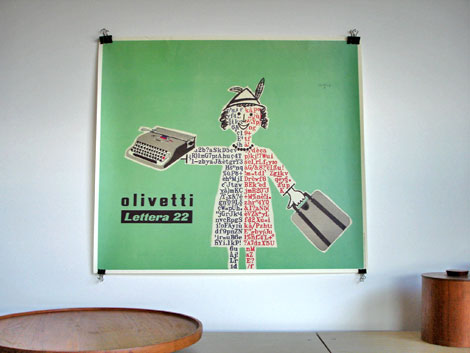 Congratulations to Jessica Taylor of the UK! On Dec. 14th, 2007 we randomly pulled her name out of an orange trash can. She is now the new owner of the Raymond Savignac poster seen above.
Thanks to everyone that signed up. We received a ton of emails.
Stay tuned for our next giveaway!
———————————————————————————————————————–
Win this Raymond Savignac poster!
On Friday Dec 14th, 2007 we will be giving away 1 Raymond Savignac poster (seen above). This is not an original but rather a reissue of the original poster Savignac created for Olivetti in 1953. We just brought in brand new copies from the Olivetti Society and we decided to give one away. This is your chance to have a little Savignac for the holidays!
Sounds great, but how do I enter to win?
Fill in the Contact form below with your name, email address and the words "Let me win the poster" in the subject line and we will add your name to the drawing. On Dec.14th we will randomly select one name from a trash can and the results will be posted on the site.
Your email address and our 100% spam free Guarantee:
We promise we will not sell, share, trade or publicize your email address in any shape or form. In addition, we will not "spam" your inbox.
so go for it! enter now!

Share on Facebook