Jon Jackson / Adios LA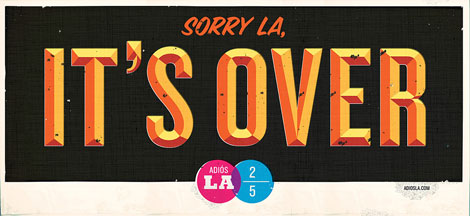 Wonderfully unique concept, execution and typography from L.A. (now NYC) based designer Jon Jackson.
Description from Jon's site: "Adios LA is a visual goodbye to the city Jon Jackson has called home for years as the artist heads east making New York his new home. Not wanting to string LA along, he has decided to firmly break it off through a graphic billboard series posted on the famous streets of his first love.Jon Jackson has spent nearly his entire life wearing shorts living in LA. He is now zipping the pant legs back on and moving east. Jon is leaving Los Angeles to work for HUGE as a Creative DIrector in Brooklyn"
Best of luck in NYC, Jon!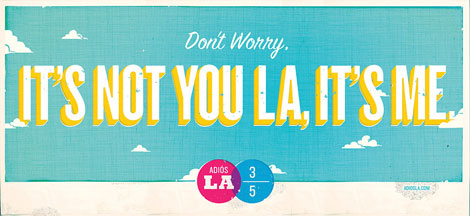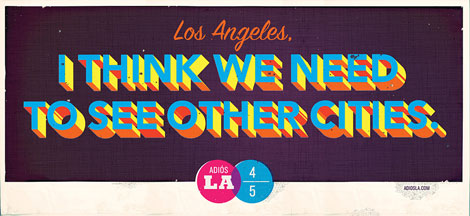 Via Allan Peters' always entertaining blog.
Also worth viewing:
Herbert Kapitzki: Graphic Designer and Teacher
Typografische Monatsblätter
Vette Annonce type specimen sheet
Not signed up for the Grain Edit RSS Feed yet? Give it a try. Its free and yummy.

Share on Facebook
Tagscontemporary, Design, Illustration, Typography, USA
01.26.11 in Found design by Ethan
Share on Facebook