2010 Holiday Wish Lists

Dear Holiday Spirit(s):
We're approaching the end of 2010, a year filled with work, work…and did we mention, more work? Seeing as we've all been on our best behavior, please take a look at the wish list we've compiled with some of our favorite artists and friends. It's much BIGGER than last year's list and excited to share it with you. Please say you'll bring some of these goodies our way!
Yours Truly,
Grain Edit + Friends
1.  Bang! lamp by bitplay inc.: When you fire a shot at the lamp with the included gun, the light turns off and the lampshade falls to the side, showing that it's been hit. Super cool!
2. iPad
3. Groove Merchant 20 Year Anniversary shirt designed by Freddy Anzures (Apple/Wax Poetics) for Props.
4. Harris Tweet iPad Case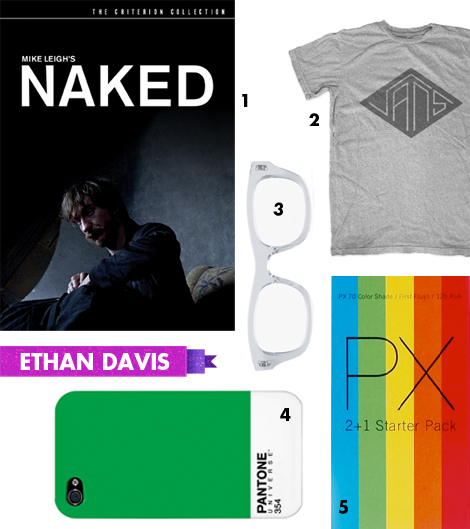 1. Mike Leigh's Naked. A powerful film from one of my favorite directors. I'd actually take any of the films from Iron & Wine's or Wes Anderson's top 10 favorite films list.
2. I love the portfolio of Austin-based design Ryan Rhodes. Everything in there is top-notch. This Vans shirt is no exception; it has been calling my name for a long time. "Ethan! Wear me! I'm a medium, too!"
3. I've been in the market for a new pair of glasses for some time. It's a daunting task, searching for specs. After stumbling upon this pair, the NEBB (shown in crystal), I was quite taken with it, along with the rest of Moscot's catalog.
4. If Christmas had a color, no doubt it would be Pantone 354. If my iPhone had a color, I'm hoping it's Pantone 354. Now all I need is an iPhone! See these beautiful cases at Engadget.
5. My Polaroid SX-70 has sat quietly and sadly alone these past few years, due to the extinction of Polaroid film. Thanks to the Impossible Project, instant film is back again! I'll take 3 packs of Color Shade, please!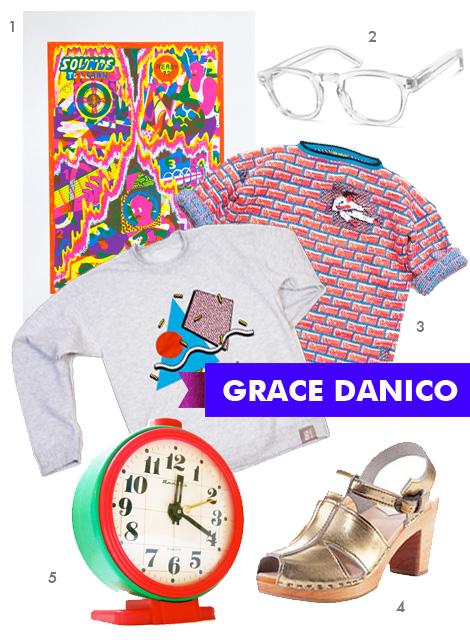 1. Sounds to Learn… print by Brecht Vandenbroucke – Bold and beautiful.
2. Fillmore glasses in clear by Steven Alan + Warby Parker – These glasses are clear and simple! Love the shape, and also love that WP gives a pair to someone in need with your purchase.
3. Ninja Bricks Sweater by Jim Drain or Snake Charmer Sweatshirt by Teenagers in Love – Something to keep me nice and toasty during these chilly days.
4. T-strap Clogs in Gold by No.6 – Had my eye on these for a while. They're simply snazzy.
5. More time to do the things besides work! A good vacation with friends would be tops.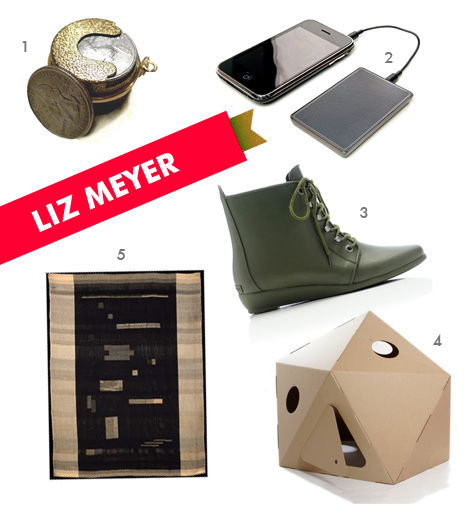 1. Quarter holder necklace – So I can stop losing my change all of the time.
2. Card Speaker – So I can have good, non-speaker-looking-speakers for my phone & iPad.
3. Rainboots that actually don't look like rainboots!
4. A playhouse for Toby the cat.
5. An Anni Albers tapestry, though I will gladly take a reproduction if I can find a good one!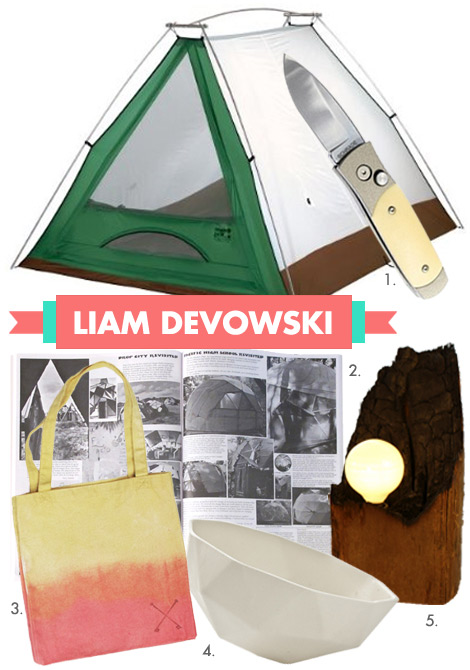 1. Timberline A-Frame tent by Eureka!, accessorized with a Shrade SMEDY switch-blade knife to fight off bears and look super tough.
2. "Shelter" from Mollusk Surf Shop, and a vacation long enough to build a hideout in the middle of the woods.
3. Script & Seal Summer Tote in yellow/pink because it reminds me of a beachy sunset, and Gavin & Liz are rad.
4. Kelly Lamb geodesic planter from General Store.
5. A burnt piece of wood with a light bulb in it! Fragment light from Anzer Farms.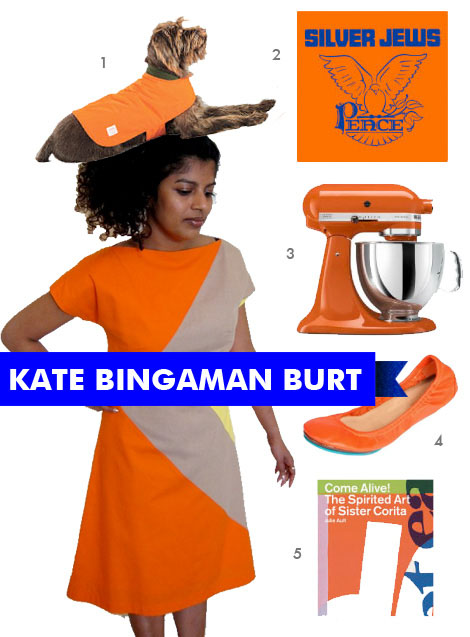 1. Dog Coat
3. Tangerine Kitchen Aid Mixer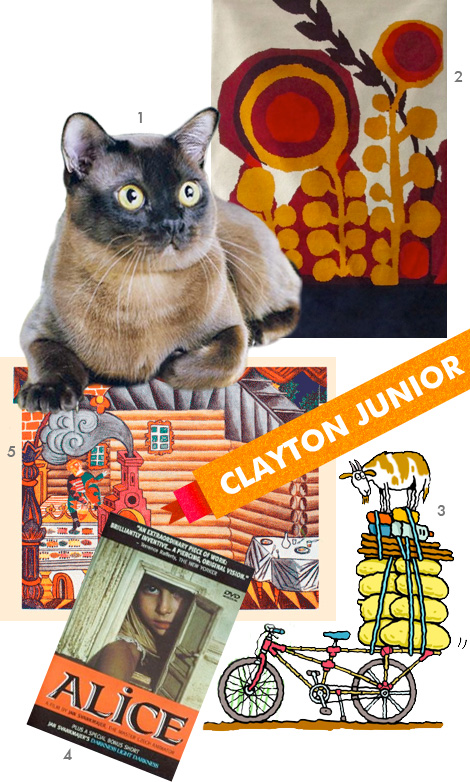 1. A Burmese Cat
3. A bamboo bicycle from Good Gift Shop
4. Jan Svankmajer's Alice on DVD
5. Ballets Russes Paper Theater Kit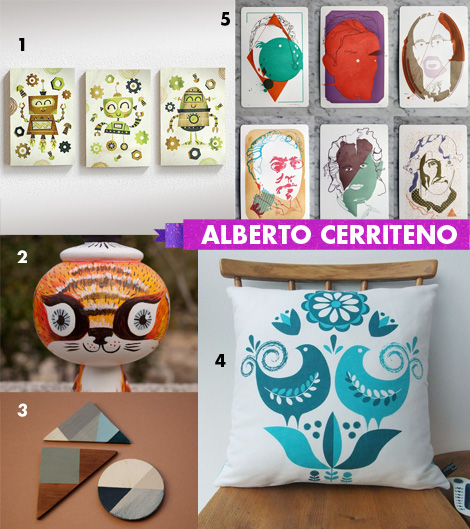 1. 3 Robots Set mounted on Bamboo Panels by Grincket
2. Hu-Wooden-Kokeshi by Malota
3. Handpainted wooden KIT of MAGNETS
5. 6 kit Letterpress series Memories of an Escapist by Nando Costa
2. A really cute pair of rain boots
4. A pair of novelty giant scissors or basically anything from this website
5. New tile for the bathroom floor and kitchen backsplash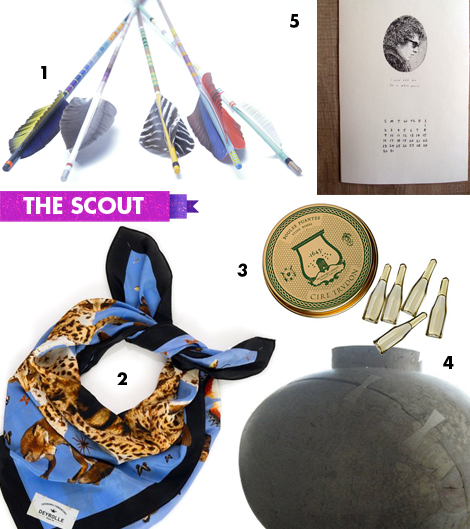 1. Handmade Arrows by Fredericks & Mae
2. Deyrolle Pour Opening Ceremony Scarf
3. Stink Bombs by Cire Trydon
4. Wooden Vessel by Black Creek Mercantile Co.
5. Songwriters Calendar by The Wild Unknown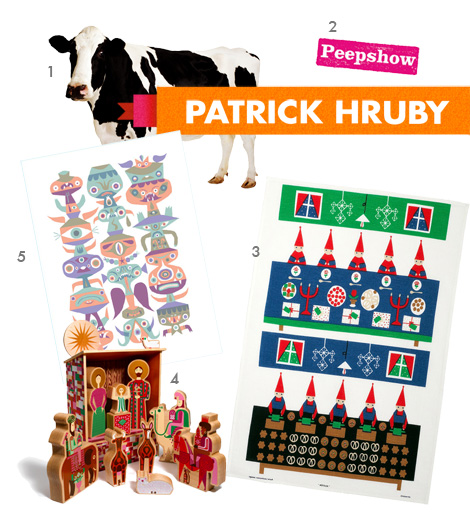 1. Send a Cow is a great gift for the person who has everything.  Charity never goes out of style and this program is great and has flexible donation ranges.
2. The shop at Peepshow London is full of fun and Christmasy stuff.  This place is near and dear to me because I did my internship at Peepshow.  You'll never meet nicer people.  In fact I built and painted pegs and pegboards in the photos.
3. There are a lot of great tea towels around lately. They make great gifts because they are both practical and decorative.
4. A bit pricey, but I would would smile all the way to next Christmas if I got this Alexander Girard Nativity.
5. Calendar Totem Print by Tim Biskup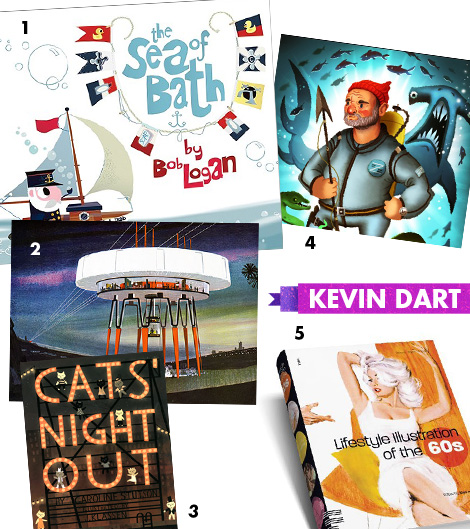 1. The Sea of Bath by Bob Logan
2. Power Styling Futuristic Structure Concept Book
3. Cats' Night Out (Illustrated by Jon Klassen)
4. Steve Zissou Print by Justin Parpan
5. Lifestyle Illustration of the 60s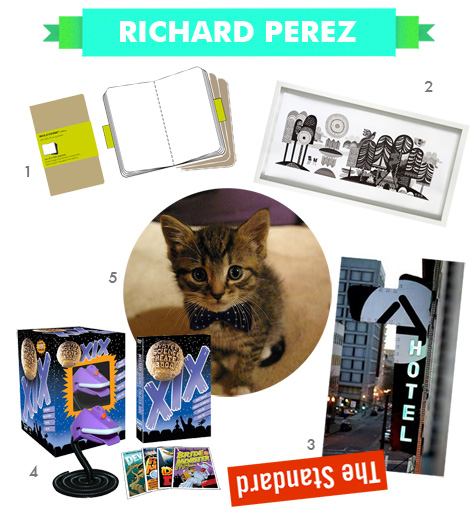 1. A small stack of 5×8 notebooks and a cupful of pens. Always seem to be running out!
2. Sanna Annuka's "Shaman Teepee" screenprint.
3. A nice getaway week (maybe two) in NYC with Jen at either the Ace or the Standard Hotel.
4. Mystery Science Theater 3000: Vol. XIX. And some time to nerd out.
5. A snazzy new bow tie bow tie for my kitten, Tibbles.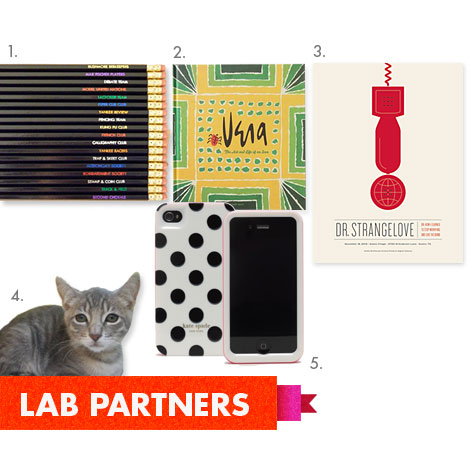 1. Rushmore Pencils featuring the names of Max Fischer's extracurricular clubs.
2. Vera: The Art and Life of an Icon. A fantastic book featuring loads of gorgeous sketches and paintings by one our favorite designers.
3. Dr. Strangelove poster by The Small Stakes
4. Donation to Home at Last Rescue, a great local non profit animal rescue where we adopted one of our kitties from.
5. Kate Spade iphone case.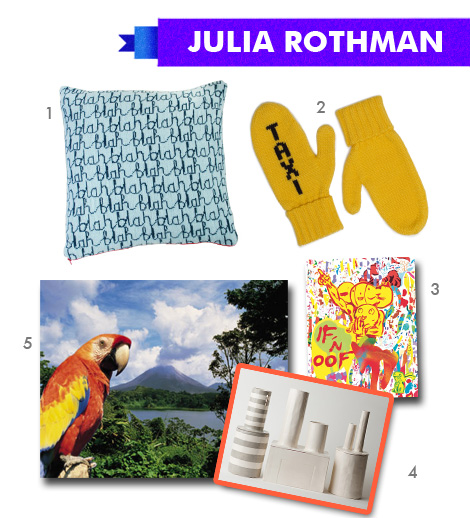 1. This would go on my sofa nicely
2. These Taxi mittens will be helpful when it gets too cold to walk around the city
3. The new, very thick, Brian Chippendale book If-n-Oof
4. I've always loved these ceramic factories by Up in the Air Somewhere
5. An adventure trip to Costa Rica– that is my present this year to myself!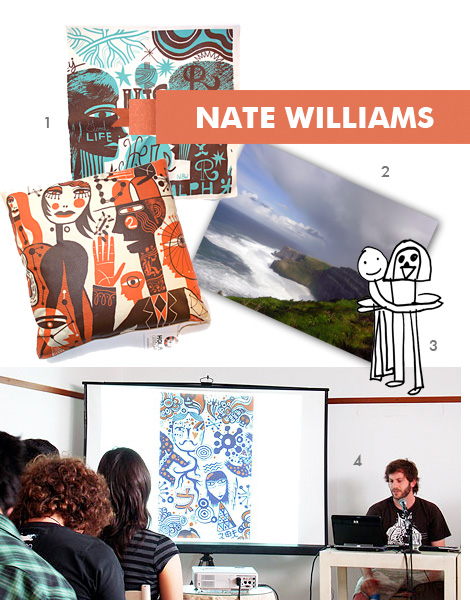 1. I want to figure out how I can get my product ideas to market.
2. Hope to have more opportunities to travel with my girlfriend.
3. I want my son Milo to continue being playful, curious, happy and healthy.
4. I hope I have more opportunities to give lectures and workshops in the upcoming year
5. I hope to have free time to think, relax, play, and discover.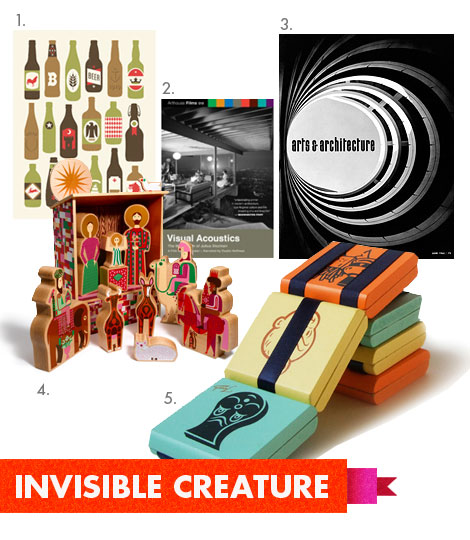 1. Doublenaut 'Bottled' poster – No explanation needed. The brothers McCracken do it again … and I'm suddenly really thirsty.
2. Visual Acoustics DVD – An inspiring documentary about the life and times of Julius Shulman. I caught a screening of this last spring and really enjoyed it. Now I need it at home.
3. Arts & Architecture prints – I was lucky enough to receive the Taschen 10-volume reprint from Mrs. Clark last year, but it would be a delight to see these beautiful covers by Kratka, Lustig, Eames, Matter and more in a larger scale. Hint, hint.
4. Alexander Girard Nativity Set – My admiration for House Industries grows each time they release a new collaboration or product. The kings of quality and craft. Now I realize this has been around a few years, but this particular block set may be their 'white album'. Not extremely easy on the wallet, but I'm still putting it on the list. Take that.
5. Gary Taxali wooden toys – Gary is one of my favorite illustrators, one of those guys that turns every page into gold. He recently launched a new line of amazing wooden toys – complete with drool-worthy packaging. Seriously, how cool are these?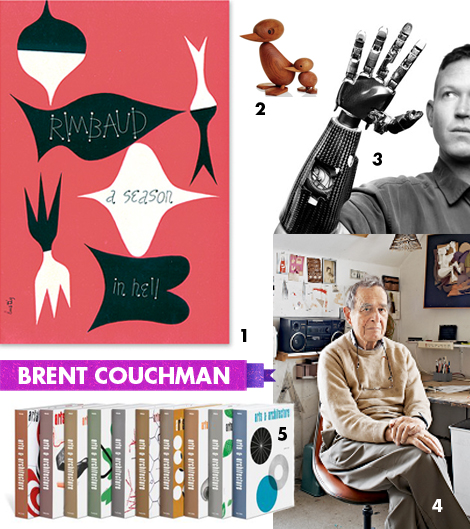 1. Alvin Lustig – New Directions: New Classics – Impossible to pick a favorite so I'll take them all!
2. Hans Bølling Ducks – My grandparents lived in Denmark for a few years in the 60's and my grandmother got a set of these ducks while she was there. I remember growing up always wanting to play with these at her house not knowing they werent toys.
3. Luke Skywalker Arm – When I inevitably get carpal tunnel from all this computer use I'd like both arms replaced with Luke Skywalker arms.
4. Irving Harper Paper Sculpture – I was familiar with Irving Harpers work for George Nelson and Herman Miller but I had never seen his paper sculptures until this New York Times article came out. I'm sure getting an actual sculpture is impossible, but apparently there will be a book out in the near future featuring his amazing pieces.
5. Arts & Architecture 1945-54 – This incredible collection might as well not even be available as it's so dang expensive, but, I want it.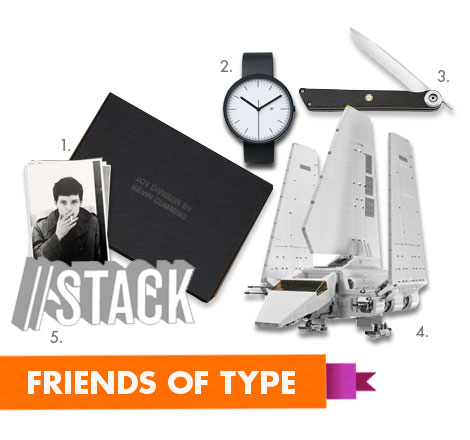 1. Joy Division by Kevin Cummins Postcard Boxset
2. Uniform Wares 200 Series Wristwatch: (Rose)
3. Shun Large Higo Nokami Gentleman's Knife
4. Lego Star Wars Imperial Shuttle
5. Stack Magazines subscription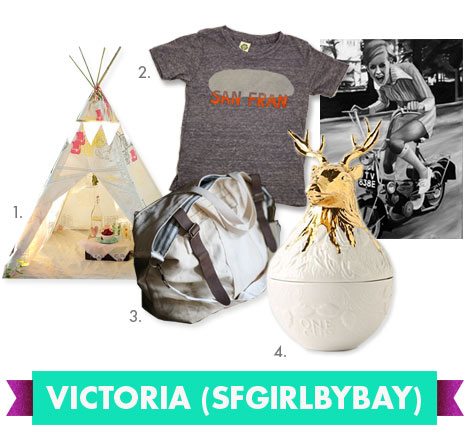 1. A handmade Teepee for my backyard from shopSCAD's Jenny Little.
2. Tucker Nichols' San Fran T-Shirt from Park Life.
3. Recycled Canvas Carryall from Forest Bound.
4. Anthropologie's Enchanted Buck Measuring Cups.
5. Twiggy painting, by Scott Parry at The Beholder.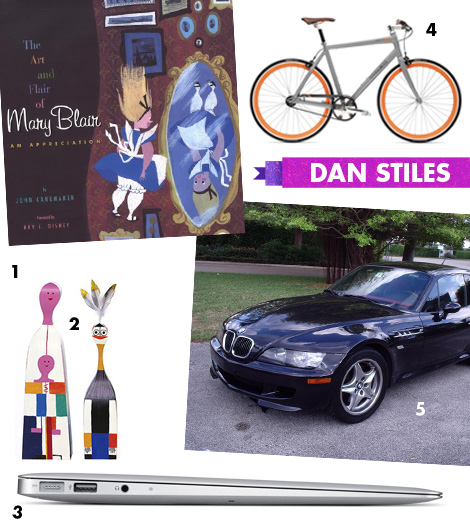 1. The Art and Flair of Mary Blair: Somehow it managed to escape my attention that Mary Blair has a book.
2. Wooden Dolls by Alexander Girard: I bought one of these for my wife a few years back, I would love to finish out the collection. At $160 a pop I think I'll do it one at a time over the next decade or so.
3. 11″ MacBook Air: I have this fantasy of a tablet computer that I can carry around and draw straight into, like a iPad that runs the Adobe Creative Suite. Until my fantasy is fulfilled this lightweight little guy will have to do the trick.
4. The original Trek District: In the orange and gray color combo. A cool belt drive round town bike like a fixie but with (god forbid) freewheel and brakes.
5. 2001 S54 BMW Mcoupe: Often derided as the ugliest BMW ever made I actually think it's the coolest. Like the bastard child of a 1960's Jaguar E type and the Batmobile. Designed after regular work hours by a dedicated group of BMW engineers who simply wanted to make the most awesome car ever. Only 6000 were made and only 2800 were brought to America over a 3 year period. Make mine black, please.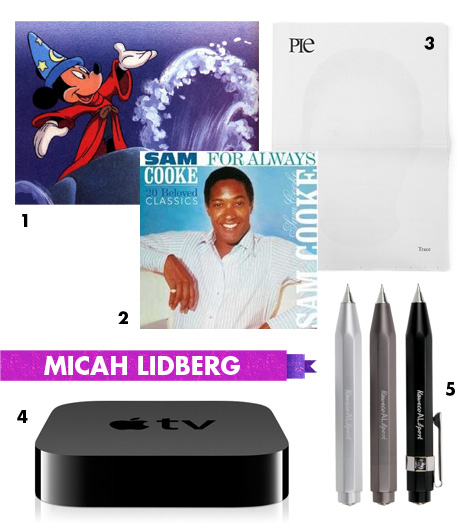 1. Fantasia on BluRay
2. Sam Cooke
4. Apple TV
5. Kaweco AL-Sport Mechanical Pencils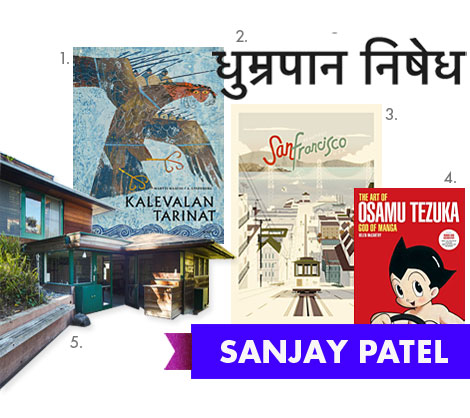 1. Kalevalan Tarinat By Aleksander Lindeberg
2. Kohinoor Devanagari typeface
3. San Francisco by Kevin Dart
4.  The Art of Osamu Tezuka God of Manga
5. Mary & Lee Blair's 1939 Home
Or this place since the commute would be easier.
---
Special Thanks
Here's a huge high five and thank you to all the artists that shared their holiday lists with us this year. Please take the time to spread some holiday cheer by visiting their sites.
What's on Your Wish List?
What's on your wish list? Let us know by leaving a comment below or on twitter.
Also Worth Checking Out
2010 Grain Edit Holiday Giveaway Bash – Remember to enter before it's too late!
Sign Up!
Not signed up for the Grain Edit RSS Feed yet? Give it a try. Its free and yummy.

Share on Facebook
TagsART, gift guide, holiday gift guide 2010, merrychrismahanukwanzaaka, misc. goods
12.10.10 in Guides by Grace Danico
Share on Facebook