Ongoing Events & Resources
ANDREW HOLDER AT SUBTEXT GALLERY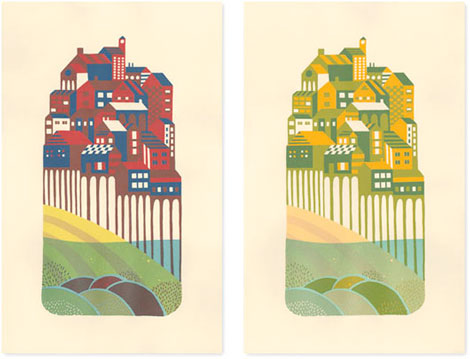 More Andrew Holder! Here at Grain Edit we love Andrew's work, and it's awesome to see him popping up in more shows and galleries. We just want to see his work up here in the Bay Area! I guess we'll have to wait. But if you are down south, be sure to check out Andrew's show in San Diego at Subtext Gallery & Design Bookstore. It's going on until April 26th.
Press release from Subtext Gallery: Andrew Holder is a recent graduate of Art Center College of Design in Pasadena, California, and his talent has earned him shows in Australia, San Francisco, and now in his home away from home, San Diego. Andrew has already built up a steady flow of clientele, including Roxy, Poketo, National Geographic, The Toronto Times, and Arkitip Magazine. He was born in St. Augustine, Florida, but spent most of his youth growing up in San Diego. His work has a hint of Scandinavian folk-art with a modern-day twist. Sleepy seaside towns and country landscapes are prominent in his pieces, made up of simple geometric shapes and organic line work. Andrew's pieces are memorable, distinct, and beautifully engaging.
————————————
AIGA MINNESOTA EMERGING DESIGNERS

AIGA Minnesota is a great resource for young designers. They organize an awesome discussion, lecture, and hands-on workshop series entitled "So…" that is geared toward the entry-level design professional. In addition to this, they showcase online resources through their design feed, highlight community events, offer studio profiles, and update a job board.
This is the perfect opportunity/resource for all you young designers eager to get your mitts on some steamy design!
AIGA Minnesota Emerging Designers.


Share on Facebook
Tagscontemporary, exhibitions, lectures, USA
Share on Facebook