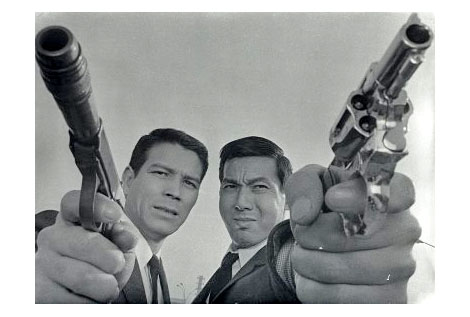 Jerry Fujio and Jo Shishido in A Colt is my Passport c1967
I had a chance to check out a few films from the No Borders, No Limits: 1960s Nikkatsu Action Cinema series this weekend. These super stylized films produced by the Nikkatsu film studio were heavily influenced by Hollywood and the French New Wave. The Seijun Suzuki films re-released by Criterion are part of the Nikkatsu catalog. If you've seen any of Suzuki's films, it will give you an idea of the films featured in the No Borders, No Limits series.
The series focused on some of the more obscure films to come out of the Nikkatsu studio. All 3 films I saw were great. I just wish I could of seen the other 3. You can find out more about these films at Outcast Cinema.

Share on Facebook
04.14.08 | Dave | Seen Elsewhere |
3 comments
Share on Facebook