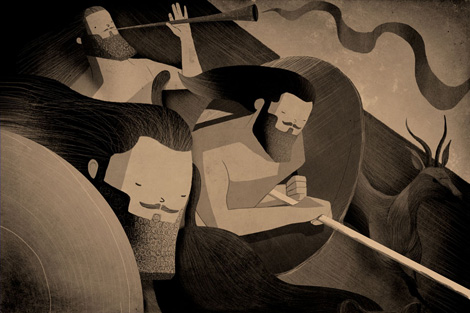 Gadite Warriors by Andrew Lyons
Old & New provides a platform for contemporary graphic artists to exhibit works themed on Biblical stories and passages. It also aims to introduce a new online audience to Biblical art, attempting to replace popular, yet sometimes low-quality, contemporary Biblical artwork with the kind of accessible and honorable work that has historically been associated with the Bible. The project involves artists from different faith backgrounds and sells prints of the designs with proceeds going to help fight the HIV/AIDS and water crises in Africa.
On Monday, April 22 the latest round of designs will be released with contributions by Mikey Burton, Chris Rushing, Shed Labs, Matt Stevens and others.

Share on Facebook